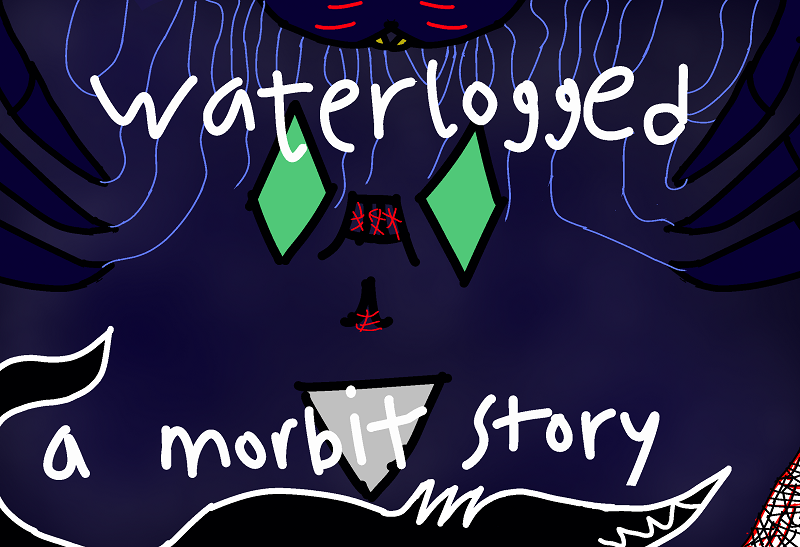 Before we start, this adventure may address materials and topics that might be difficult subjects for some people -- some of these topics are spoilers for later content. If that sounds like something you need, check out the spoiler below.
-------------------------------------------------------------------------------------------------------------------------------
Your name is
Daisy
, you're a
Demon
, and you're really not in the most pleasant situation right now.
You can feel the weight around you, crushing, pressing in on every part of your body. Several-thousand tons of sugar water loom overhead. You aren't exactly sure how you got down here but that doesn't really help you at this point.
If you had to guess you'd say you were somewhere in the sea trenches between
Aspersion
and
Spindle
. Judging by the pipes full of gunk and industrial waste, you're probably in the southern reaches.
This all feels strangely familiar.
You probably should find a way back to the surface,
Verity
 is going to be worried sick about you, and staying down here very long will probably have dire consequences. Also, you're definitely not getting paid for this.
No, you're not getting paid for being thrown into the ocean, and you don't think your insurance covers ocean-related injuries. That said, you have more important things to worry about than your next pay check, like the beautiful creature floating peacefully over there.
You take a moment to regard the glow shrimp.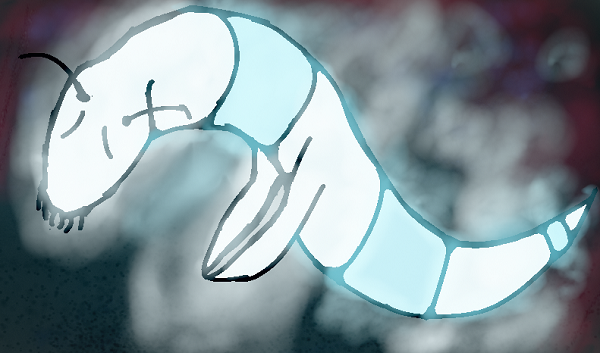 Across the chasm, just out of your grasp, the glow shrimp floats peacefully. Many have questioned the quandary of the curious glow shrimp. One would expect that glowing would be an evolutionary dead end, surely something that glows in the deep ocean would only attract predators to it. But the glow shrimp seems to defy all logic, existing, and even thriving despite this trait. There have been many theories about the ability of the glow shrimp to survive, perhaps it has a predatory function, perhaps it shares a symbiotic existence with some other creature. An official study has never been conducted on the life of the glow shrimp, so for now, no one knows. Even more curious than the life and ecology of the glow shrimp is its biology. The glow shrimp lacks a brain, has almost no actual internal organ structure, and is more analogous to a floating mass of glowing gunk than anything else.
You sigh wistfully, ah, to be a glow shrimp, to not care about life, simply drifting along as the deep-sea currents ebb and flow.
This glow shrimp, in particular, seems to be a blue-banded glow shrimp, named such because it has blue bands. The blue-banded glow shrimp tends to live only in the deepest part of the oceans, where its light stands out like a small beacon in the inky blackness.
You almost envy the peaceful life the glow shrimp has.
...
You manage to pry your eyes away from the glorious glow shrimp.
With a reasonable amount of effort, you wind up a kick and give a lonely rock a good punt into the chasm.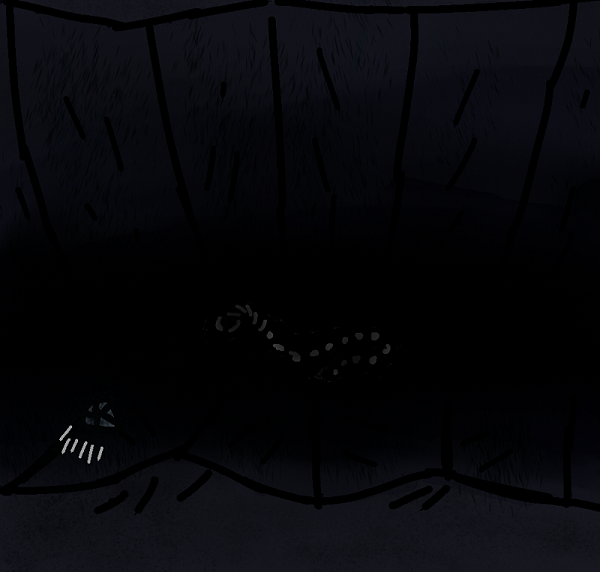 The rock jumps forwards as your foot makes contact with it, soaring through the water before majestically drifting into the chasm. The rock falls dreadfully slowly due to the syrupy nature of the deep sea trenches.
Some time after the chunk of earth has vanished from view you see something shift in the chasm. Some weird pitch blackness writhes and coils in the deep. The changes are barely perceptible with how little light there is down here. But whatever is in the chasm, it looks very big.
Then you hear a noise, like a bastardized whale song, an awful, cruel whine. Something about it presses at your eardrums and makes you feel an unease that grasps your heart and squeezes. The noise dries out your mouth and makes your nose itch. Suddenly, you're even sweating a bit, despite being underwater, you know you're sweating. You swear you could even feel the saliva on the tip of your tongue boiling; your paper-like skin crinkling in response to the broken sounds. The noise doesn't stop, warbling and warping, twisted and twisting, and somehow awfully tragic.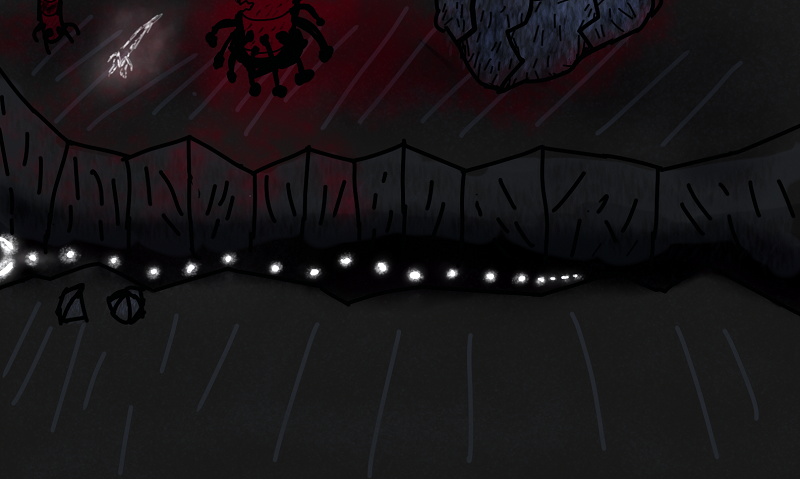 In front of you is a large crevice, if you looked into it you could swear you saw something moving around down there. You can see a faint glow that disperses into the unnatural darkness of the ocean's depths.
On the other side of the chasm there are two pipes, one of which appears to be leaking a sickly
red fluid
. There's also a big rocky rock and a cute glow-shrimp.
You burble out a quick "Sorry", sugar water filling your mouth and getting all sticky against your teeth. Whatever it is in the chasm responds with another painful noise, you're not quite sure if its a scream or just its natural call. The sound is immediately followed by a rushing feeling, you can see the darkness shifting in the depths, approaching quickly. Unfortunately for you, it seems that whatever creature it is in the cavern does not want to be your friend.
With haste, you start swimming away from the trench. Fast locomotion proving difficult to the viscosity of the sugar-water. As each second ticks past you can feel the pressure building, the feeling of its presence growing.
An awful tingle rolls down your spine, like nails on a chalkboard, but the chalkboard is your spine, and the nails are textured like sandpaper. You realize that this probably isn't the best simile, but considering your situation you give yourself a pass. You can feel your head starting to ache, and your vision starting to shift, scan-lines sliding over your eyes as everything blurs and twists out of your control. Whatever's in that chasm won't be for much longer, and you can feel the horrid pressure getting stronger.
You look back.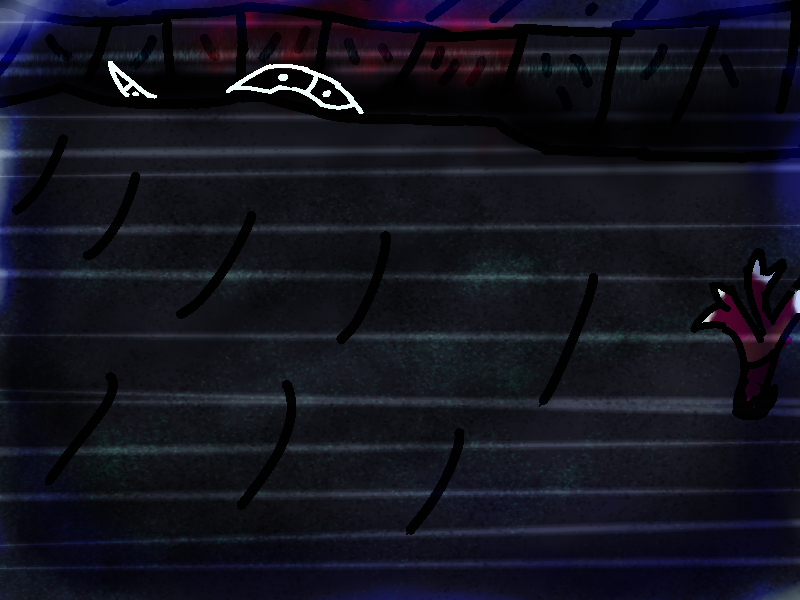 You immediately regret looking back.
Your eyes burn and ache where they find the empty void of a creature stalking you. A pit of darkness defined by its utter lack of definition, no light that falls on its wretched body ever resurfaces.
You see the
horror
 slipping back beneath the edge of the chasm. Every time you blink the thing seems to change, every time your eyes refocus the geometry and curvature seems to shift, warping and twisting, like it was mocking the very nature of reality.
This seems bad.
You turn tail and run, this action proves to be slightly more effective than swimming. However, you quickly realize this isn't going to help you, your muscles are starting to lock up and you were moving far too slow anyway. You turn back around just in time to see the horror's tail leaving the chasm. The light around it bending and betraying the cruel nature of the creature.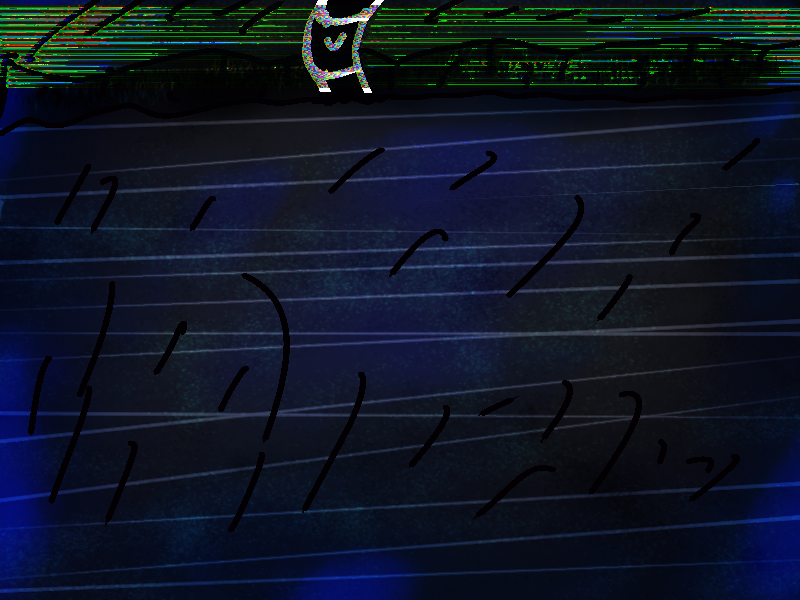 A horrible feeling fills your gut, you know that this thing doesn't have any good interests in mind for you, or any interests at all. All of the awful wrongness that you've felt up till now just gets worse, and you feel a bit of stomach acid rising in your throat. You even consider screaming at, it for a moment, but that would be even less effective than trying to run was.
You look up.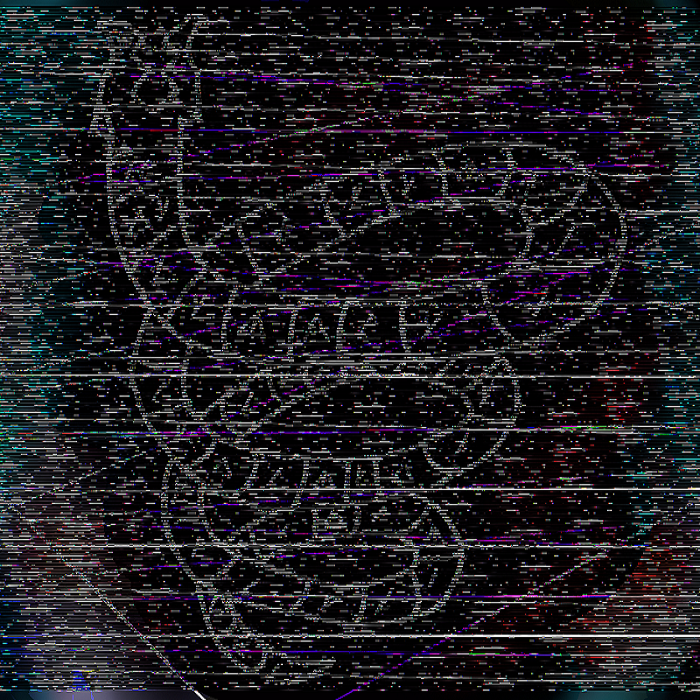 You try your best to look alive, your only hope at this point is if the horror recognizes and tries to mimic you. As you continue to stare at the horror, a burning sensation builds in your eyes, the light tearing and distorting around the creature. You can feel the radiation pouring off of the horror, seeping into your body, poisoning you. Pain fills the horror's eyes, you see it see you, you just can't pull your eyes away.  
For a moment, you feel a rush of possibility, the pain in your head lessens and your vision clears, you can see the horror in all of its beauty. The empty dark 'skin' where light falls and never leaves, everything about it just feels so awfully sad.
In this calm moment, something strange about its body bothers you, the symbols crawling over its back, the Modician number system. But you shove that thought out of your mind, worrying about the small details won't save your life.
Then it all falls apart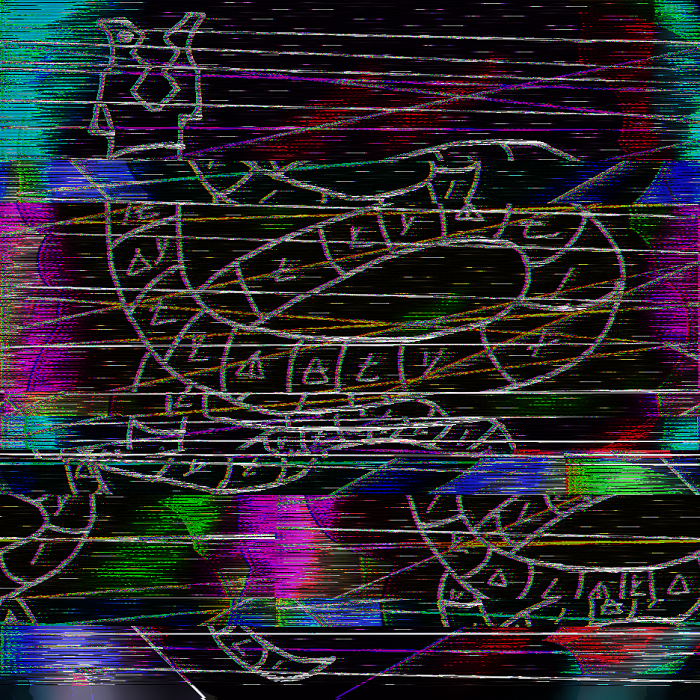 The Horror Screams
 (Loud Noise warning)
A blinding wave of pain slams into you, your vision going technicolor as the horror tears itself apart. The pressure from its scream hits you, the sound wave forcing you to your knees. Tears burn in your eyes as your stomach churns. You feel yourself start to shake as the second wave, the one composed of radiation washes over you, your paper-like skin crumbling from the exposure.
You scream in earnest, sugar water filling your lungs. You keep screaming, you can feel your body warping in responses to the horror's radiation, you can feel every change.
You bow your head, humming the familiar tune of a musical prayer, your hands clasped together. You pray to Verity, to XLR, you pray that you could get out of this. You aren't ready to die, not here, not yet. You still have so many things to do.
You look up to face the horror one last time, and see nothing. Just an empty expanse of ocean.
Your body relaxes, exhausted, as darkness overtakes you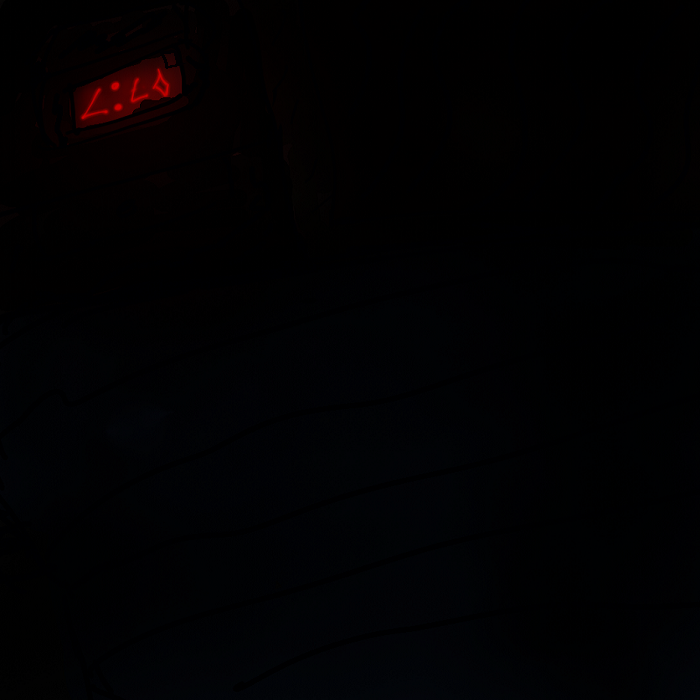 DAISY: "...fuck"
Your alarm clock sits on your night stand, glowing faintly in the dark; it's a few hours before morning. Another nightmare in the middle of the night, another dream about the sea-floor. The bed you are in feels vaguely itchy and unclean, like it just isn't right. You can feel your paper-skin, crinkled and soaked through with sweat. Your body aches like you just ran a marathon, you feel a knot in your throat, and everything just seems to be pressing in on you. An awful crushing weight, a source-less primal fear. But you're not on the bottom of the ocean anymore, you're not around the horrors, you're safe.
What do you do?
Daisy groans a bit, adjusting to the darkness and the sensation of about eight new voices in her head, all screaming courses of action. Great, just what she needed, more things wrong with her mind.
She takes in a slow breath, calming herself. Daisy knows she needs to take things one at a time, or she won't get anything done. One of them is telling her to go get water, but considering her dream she really isn't feeling interested in ingesting any liquids right now, or touching any liquids for that matter.
DAISY: "I really just don't like water, water is bad... I'll do it in a bit."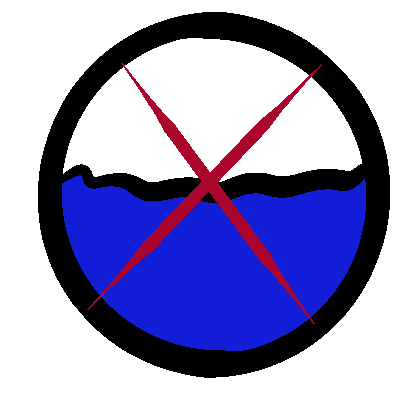 One of the voices is asking about her clock, and the numerals on the horror's back from her dream. Apparent ally the new voices don't even know what numbers are, wonderful.
DAISY: "Okay, shush for a second."
DAISY: "I can't imagine why something out of my own mind doesn't know the numbers I use every day but... why not"
DAISY: "By Verity's name, am I going to have to explain this in a base ten system to you... hell"
DAISY: "So, most places on
Morbit
, you all do know what Morbit is, right? do I have to explain
gods
and that too?..."
DAISY: "Anyway, most places on Morbit use what they call base 10, if that is what you use we would be using "base 12"; you can thank
XLR
 for that one."
DAISY: "We have three groupings of four characters -- they work as follows"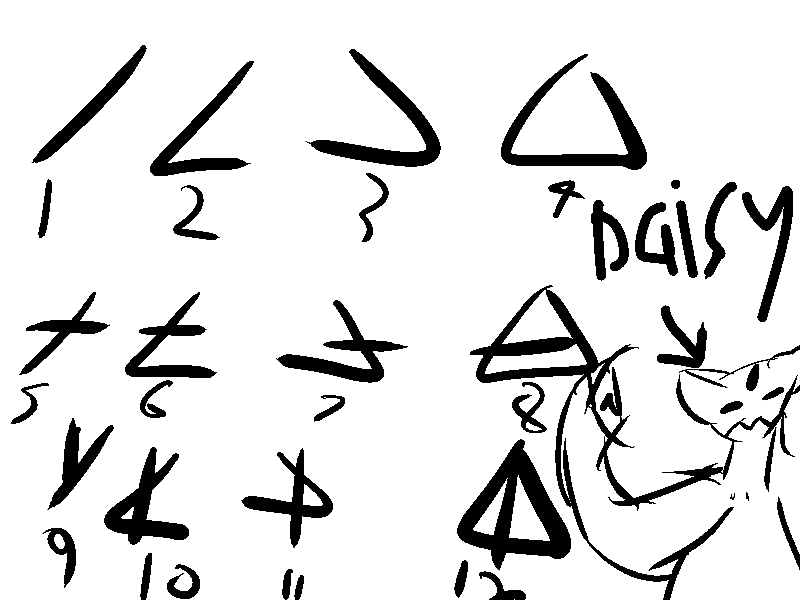 DAISY: "I hope that clears it up..."
DAISY: "Frankly though, our system works much better, and I can't imagine why you'd want to use something so ugly as decimal..."
She pulls the cord on her bedside lamp, casting a small amount of light into her apartment building. Two bottles of
important medication
 sit on the nightstand, there's about three days worth of doses left in each of them... she should probably go to the pharmacy soon. Going without medication was bad, very bad, worse than water bad.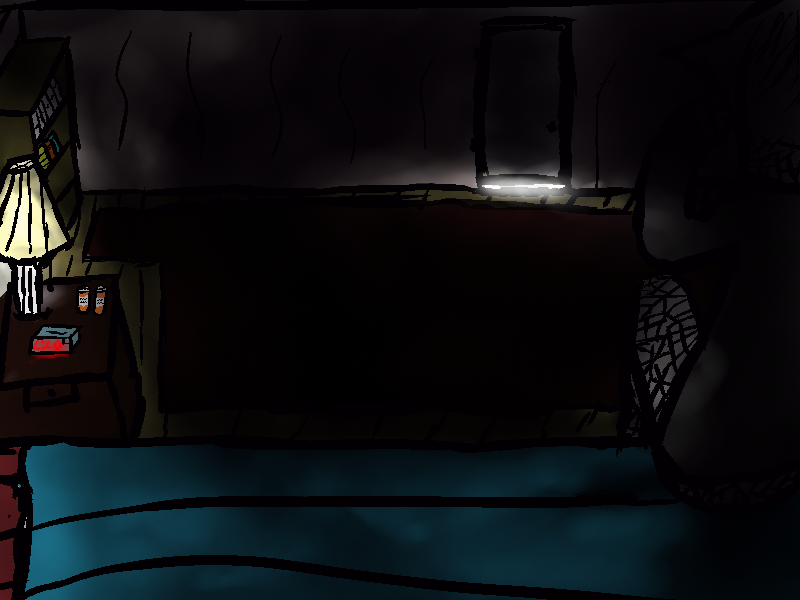 DAISY: "I suppose I should say... if ya'll wind up sticking around, and are ever in more direct control than you are now, I have to take these
twice every day
"
DAISY: "I don't plan on any of you
taking the lead
 but it's worth mentioning."
Daisy lets out a slow breath, going through the numbers calmed her down a little bit, and talking about her medication even more so. Maybe now she would be up to getting water. She grabs a glass from her bedside table and heads to the bathroom -- the hairdryer is there, and so is water, it'll be easy.
Daisy fills the cup with cool water, hands trembling a bit. This didn't feel great to her, and she really didn't like the sound of the faucet running. She knew she could do this though. After a few seconds she shuts the faucet off, setting down the glass of water against the floor and slumping against the sink/drawer combo.
After a few moments, she grabs the hairdryer, using it to at least make herself less soggy. Drying out after a bad dream was really her least favorite thing to do, it made her paper much more prone to cracking and falling off. Alternatively, she could remain soggy and slush around all day which really wasn't any better.
Daisy closes her two main eyes, letting herself just hear the faint electrical hum of the hairdryer.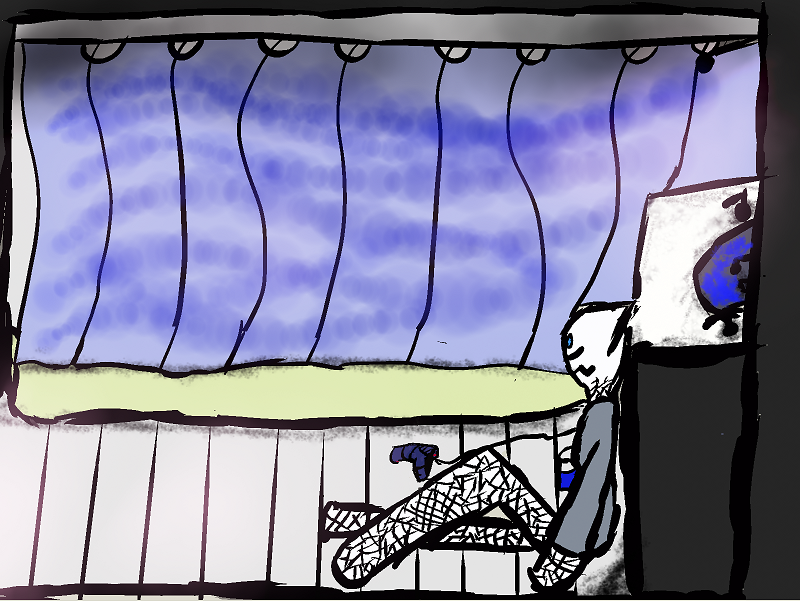 DAISY: "Well... since you're here... and I'm not going anywhere... whats up?"
Daisy smiles a bit, it makes her feel quite a bit better to know that the voices in her head seem to actually care about her and her well being. Maybe she could get along with them, maybe this wouldn't be something bad. Having things that aren't bad happen would be a nice change of pace.
DAISY: Right... Medication.
DAISY: You're in my head right, shouldn't you know this already? Never is that simple I guess.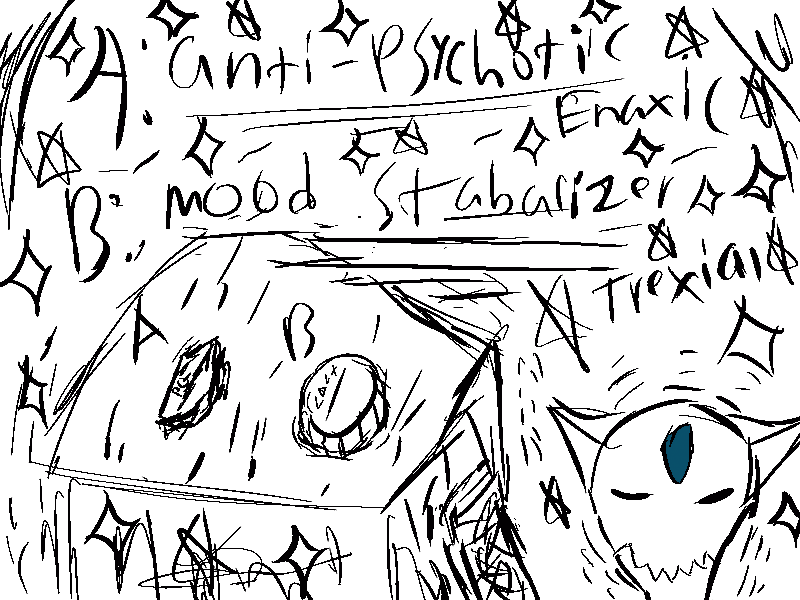 DAISY:
Enaxic
 is my anti-psychotic, it's supposed to help with my dissociation, it's also supposed to help with not having voices in my head but you and I can both tell that that's not working right now.
DAISY: Frankly, as long as you all are nice I really don't mine
DAISY: It's nice to have a little company sometimes.
DAISY: Though... are you gonna be around, talking to me, all the time?
DAISY: Is that what collectives have to deal with?
DAISY: Sorry, getting distracted.
DAISY:
Trexial
 is my mood-stabilizer, it's what I take to deal with the symptoms from being a
monster
, if I don't take this some really bad things could happen. And... I'd probably get in a lot of trouble and then be really sad. But now I've got people to help me remember to take it, so I don't need to forget anymore!
Daisy smiles just slightly, it's not much, but it's there.
DAISY: Honestly... it took all I had in me to get clean and drink some water, I dunno if I could do anything more right now if I tried.
DAISY: Though explaining things and having some people to talk to is really nice.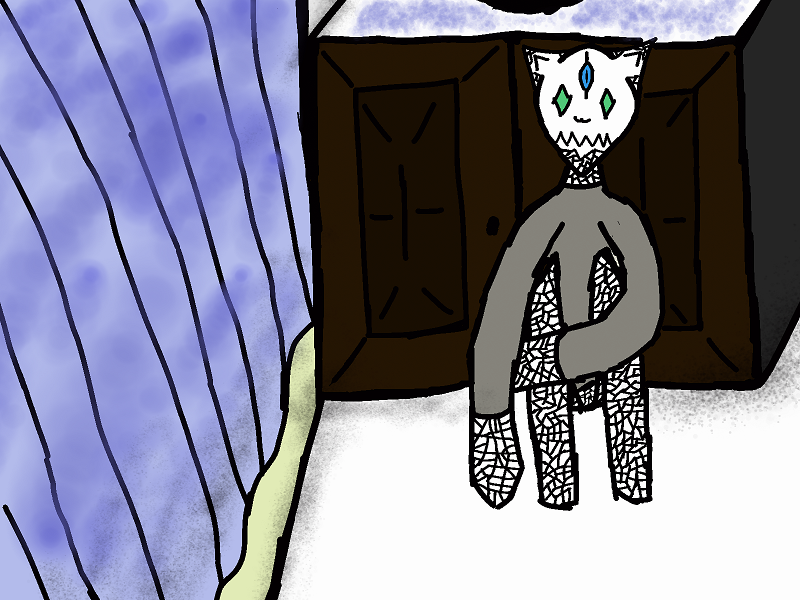 DAISY: As for the paper skin, it's cause that's one of Verity's motifs interacting with the uh... radiation poisoning I guess is the best way to put it.
DAISY: Being one of her Demons I sort inherit those motifs, her other one is 'imitation', whatever that means. Normally they don't manifest like this for people. But... I'm a monster, so...
DAISY: The other stuff is cause of being a monster, the third eye, being too big.
DAISY: You probably cant tell cause everything in my apartment was custom made for my size but... I'm not, normal sized.
DAISY: But most people don't have a third eye that never closes and skin made out of paper so being a bit big isn't that bad.
Daisy's ears perk up and twitch, catching noise, her head tilting to hear it better.
DAISY: I think I just heard someone outside the door, in the hall... why would anyone be there?
DAISY: You don't think it's something bad? should I check it out?
Daisy supposes she could smash through the door to her apartment. Though that would probably be a pretty bad idea, the door is pretty heavy, would cost a lot to replace, and would hurt someone if they were waiting outside. She approaches the door, looking up against the peephole to see if anyone is in the hall.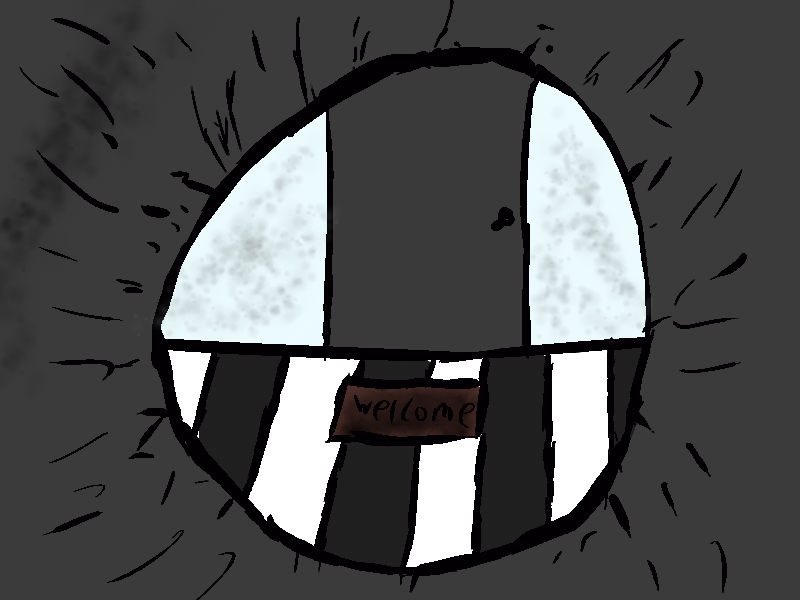 A frown creeps onto her face, it's probably normal that nobody is outside her apartment at this time of night; she really felt like she heard someone though. Daisy sighs, rubbing at her forehead again. There have been too many nights like this lately. Too many times in the last few weeks has she been woken up at three A.M.
DAISY: About water?... what do you know about me and water, what does that have to do with you being around now?
She sounds apprehensive, and unsure, the voices in her head haven't been openly hostile yet, even if they have asked stupid questions and told her less than smart things. If her eyes could narrow, they would be now. Daisy shakes her head, putting her suspicions aside for now, listening for something outside....
A soft brushing noise, of a soft material against tile
Daisy tenses up hard, grabbing the handle to her door tightly.
DAISY: Should I...?
DAISY: ... you know, you're right, what am I actually afraid of?
She pushes open the door confidently, leans outside, and stares down the hallway.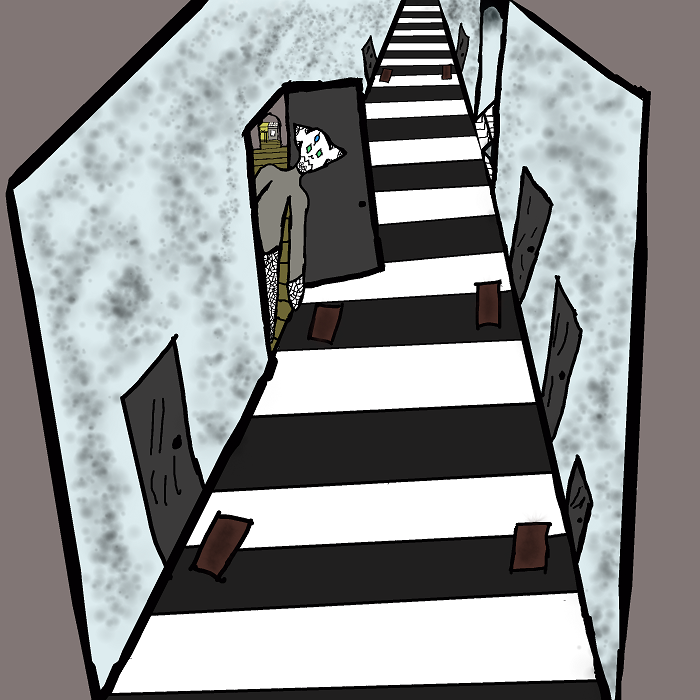 The hallway is utterly empty, devoid of people other than her. Something about all this feels wrong, there was something that was supposed to be here. Daisy HEARD someone outside of her apartment, her sense of hearing usually wasn't wrong. Had she forgotten to take her medication?
No, no of course not, she had four pills left in each of her bottles, she remembered this clearly -- two for today, two for tomorrow. There was a feeling of something being there too, something strange, like the light from the overhead fixture was rippling in front of her. She could taste the use of
Scrap Magic
 in the air, someone was here and she was absolutely sure of it.
DAISY: I... don't like this.
She lets out a breath, but doesn't let her guard down.
DAISY: Anyway... Verity.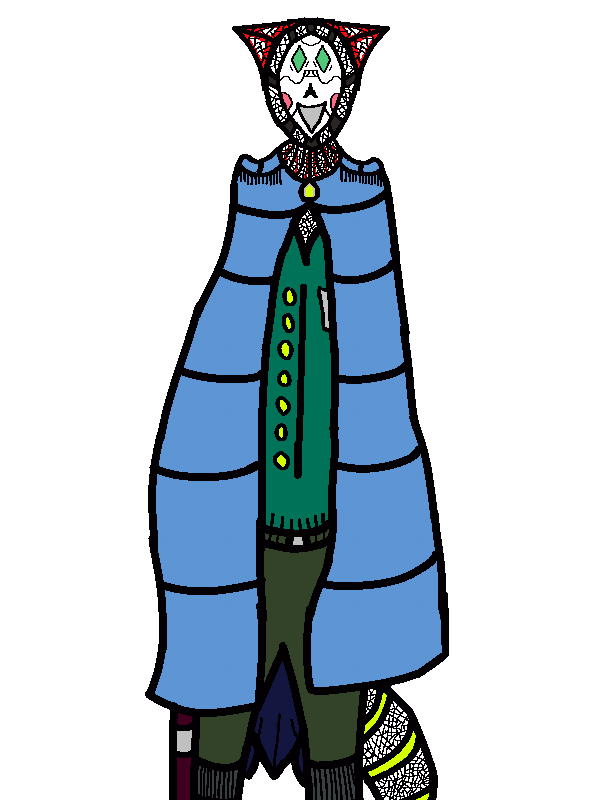 DASIY:
Verity
 is a
greater god
, her domains are
Truth
 and
Lies
, her motifs are
Paper
 and
Immitation
. She oversees the
Independent State of Aspersion
.
DAISY:
Gods can be High gods, greater gods, or lesser gods
.
High gods control large regions of geological
space and are... usually
big and powerful
, both literally and figuratively.
Greater gods
tend to be more on the average species size scale of things, and tend to subdivisions of regions often called
Zones
. We're in
Aspersion
right now.
DAISY:
Lesser gods
are much closer to an average person in terms of their scope, they sometimes wind up in logistical positions of power and to help with practical issues.
DAISY: Gods in general have control over their
domains and motifs
in some way, the higher a god is in the hierarchy the more powerful their control is. Domains are the concepts related to a god, and motifs are what their bodies are physically made up of.
DAISY: Anyway, back to Verity.
DAISY: She's pretty cool... from what I remember, she's a bit overbearing at times, and looks pretty intimidating, but she really cares about all of us.
DAISY: Everyone in Aspersion matters to her, and she works really hard to make sure we're all safe and well.
DAISY: ... I wish I could get back in contact with her.
DAISY: I can't blame her for not wanting to talk again though.
DAISY: She must feel awful about what happened
DAISY: Even if it wasn't her fault
Daisy sighs, looking down... and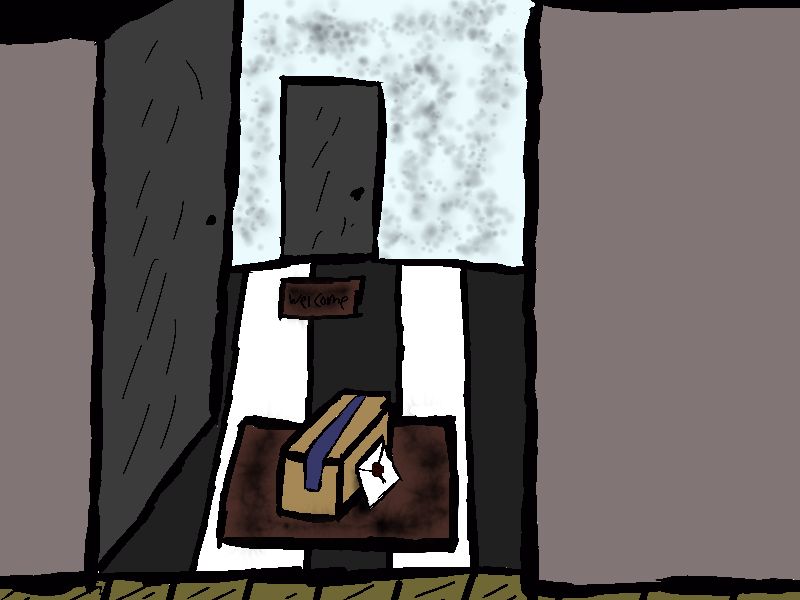 DAISY: That uh... package wasn't there before, right?
Daisy picks up the package and letter, setting them on her kitchen counter. She understood the urge to be careful but, things that require skin contact don't really bother her that much and Aspersion's public safety system is top notch. Sure it's a bit strange to get a package and letter in the middle of the night but, not the weirdest thing she's ever experienced.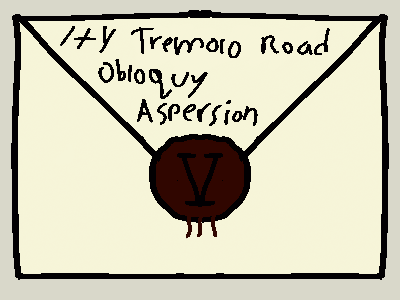 DAISY: Speak of a devil, it's from Verity
She hesitates for a moment, taking a few nervous breaths before breaking the wax seal and extracting the page from within.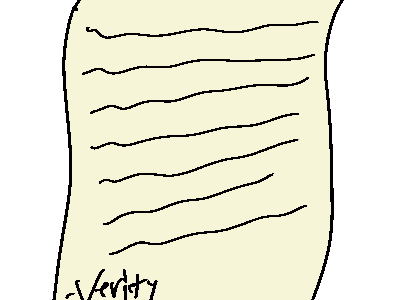 Dear Daisy
There has been too much time since we last talked, I thought it best to give you space due to my more personal involvement with the circumstances surrounding what happened to you. I assumed that it'd be best to let you get into contact with me.
I've realized that that was likely a mistake, a mistake by my desire to avoid having a potentially difficult conversation. You and I both know what happened, what Loom did to me, and to you. In spite of this, I still find myself followed by the shame and regret of what happened during the Breakage.
To this day, you've remained my Demon, and I do not plan on changing this fact. Unless of course you would want me to... but. You deserve to live in as much comfort as you can since what happened.
To the ends of you as my Demon, I hope that we can re-establish a friendship of sorts. You were my closest aide before the Breakage, and I would be grateful to have you at my side again. Even if it is ultimately your choice to not fill this role, I would hope that we can stay in contact.
If you want to contact me you can call me any time on my personal number. 0BB-442-033A.
I miss being able to talk to you
-Verity.
P.S. Please don't let that number get out, I don't want everyone to be able to call me whenever they want
DAISY: I... don't know.
Daisy sighs, setting the letter down on the kitchen table and rubbing her head with both hands. She didn't expect to get contact from Verity, and she certainly didn't expect what was essentially a job offer.
DAISY: The package... right.
Daisy opens up the package, a bit caught up in her thoughts on Verity to put much safety into it.
She pulls out the contents and lays them on the table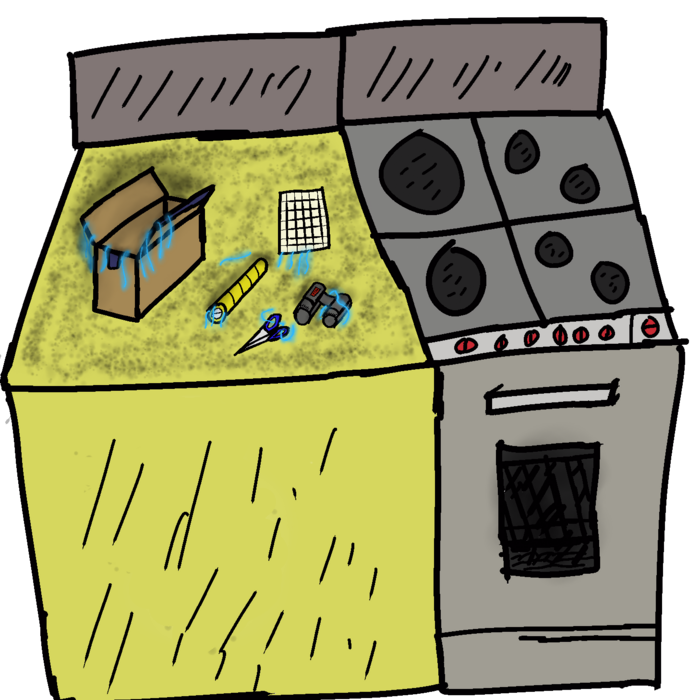 Inside the box, a mailing tube, a sheet of grid paper, binoculars and scissors -- all covered in a faintly glowing thread.
DAISY: Why would... why would someone send me scissors...
Daisy sits down at the kitchen table hard, she seems pretty unsettled by everything that's happened this early morning.
DAISY: I don't like this, those threads...
Loom's
 threads
Daisy moves quickly, throwing the package, and its contents into the trash, she doesn't seem too keen on anything reminding her of Loom either.
DAISY: There...
She lets out a breath, walking around to sit down at the kitchen table. The sound of rain rings out as water droplets smack against her kitchen window. She stares outside, watching the water fall from the grey sky. Seeing the figures walk past, seeing Descant hang in the air -- the floating island just a small speck in the distance
DAISY: What an unpleasant day.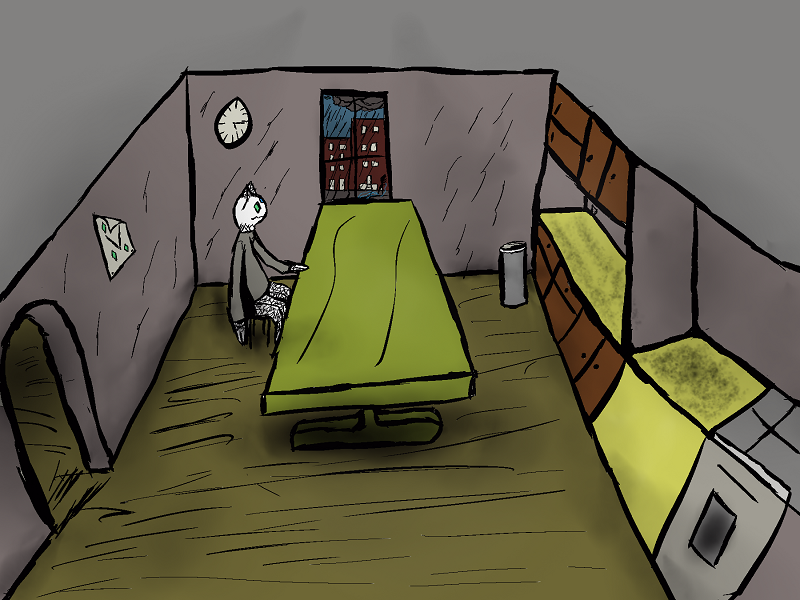 For a while, Daisy just sits in contemplation, considering her options. There were quite a few things she had to get done today. She had to go get her prescriptions refilled, return a call from a friend of hers that she missed last night, and now get call Verity, and potentially even meet with her again.
Verity's schedule wasn't exactly easy to plan around, but Daisy had a hunch that she would set things aside if it meant being able to talk again. Daisy hums to herself, rapping her hand against the wooden table -- when her alarm clock breaks the haze.
DAISY: AH!
She jolts a bit, not expecting the sudden noise, but then starts laughing.
DAISY: Guess I'm still a bit tense...
DAISY: Is it really almost six? I need to get read for the day..
What should Daisy do first today, and, is there anything she needs to get done before leaving her apartment?
DAISY: Yeah, health facilities are open all day around here.
DAISY: One of the benefits of living in the capital I guess.
Daisy pulls a raincoat from the hangar and makes her way outside, carefully, she heads for the train station. Something felt slightly off to her, she still felt that feeling she did in the hallway. By now, the sensation was much weaker, but someone had definitely been using scraps around here. Using scraps wasn't necessarily a sign for concern but it wasn't very common, and that fact combined with the mysterious package certainly wasn't helping her. Was Verity doing something she didn't know about? She didn't like how that thought felt. Even though it had been so long she was still her Demon, and she hoped that Verity wouldn't lie, or hold anything back from her.
Daisy tried to push that thought out of her head, staring at the small puddles that had accumulated on the train-tracks as she waited for her transportation.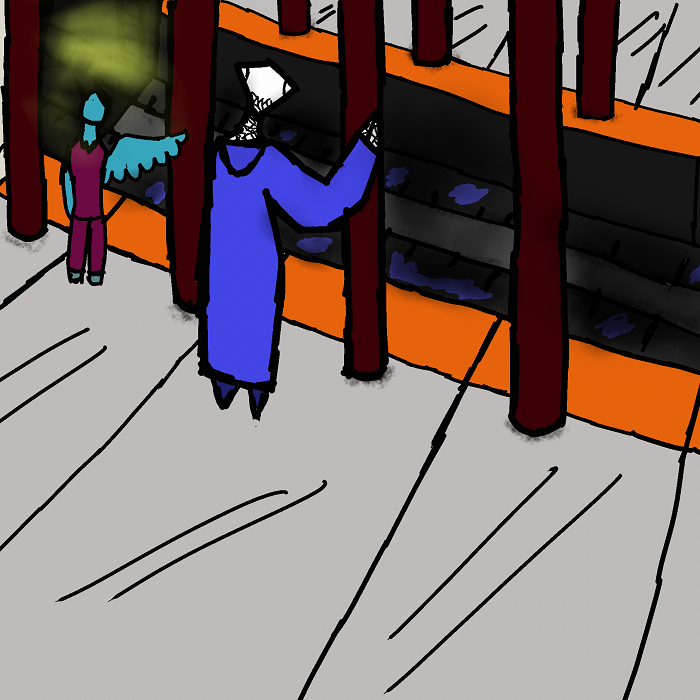 DAISY:
come to think of it, the pharmacy isn't too far from the capital office... I could just go there.
She lets out a breath, the potential of talking to Verity again, face to face both excited and terrified her. She really wanted to re-establish their friendship; yet at the same time she worried that Verity would ask her to start working again, as part of the guard. Daisy wasn't sure if she was cut out for that anymore, parts of her didn't work right anymore; her body or her head. She couldn't just let herself have the responsibility of being on the guard if she wasn't able.
She took a few slow breaths, tensing up and then relaxing. Letting all this bother her wasn't important right now, she was going to get her medicine, and she could worry about everything else later.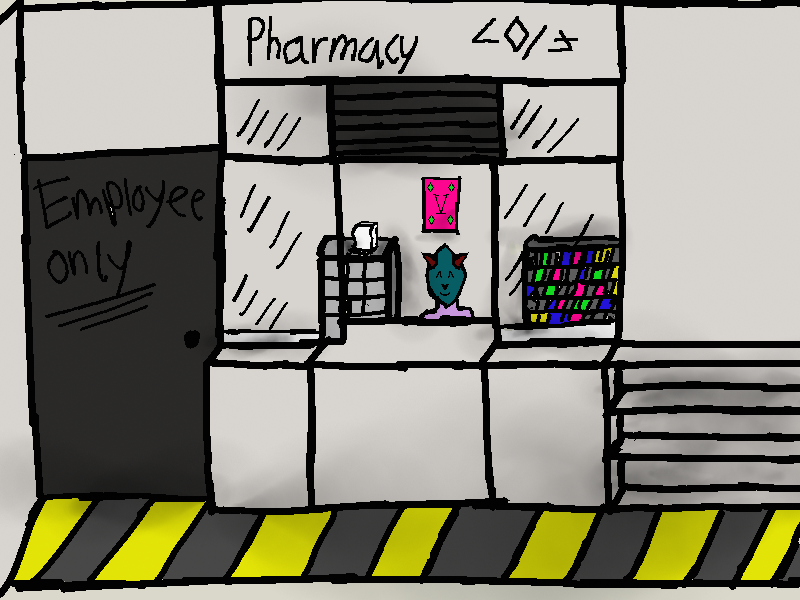 The pharmacy was empty, this time of day, just a single, familiar face stood in the window.
???: Hey, Daisy, same as usual, right?
DAISY: Yeah, same as usual.
???: Remembering to take them alright, every morning you know.
DAISY: Yeah... every morning.
The exchange took just a few moments, and soon Daisy had her refills in her hands. She stowed them away in her jacket, leaning against the counter for a moment.
???: So, how've things been?
>You may suggest a name (and pronouns if you feel down for that) for Daisy's pharmacist.
DAISY: Eh, a bit of good, a bit of bad.
DAVIS: Well at least there's some good in there.
DAISY: Yeah, really.
Daisy lets out a long yawn, stowing the bag containing her prescriptions into her jacket pocket.
DAISY: It's really raining hard outside.
DAVIS: Sure is, out of nowhere too.
DAVIS: The weather report is rain all week, there's even a flood warning in the downtown districts.
DAISY: Jeez... that sounds... bad.
DAVIS: Yeah, I'd stay away over the next few days if you can.
DAVIS: This time of year the storms blowing over from Spindle always get really bad.
DAVIS: It'd be nice to not have to deal with it.
DAISY: Yeah...
DAVIS: You seem pretty tired, sure you're doing alright?
DAISY: Yeah just... not much sleep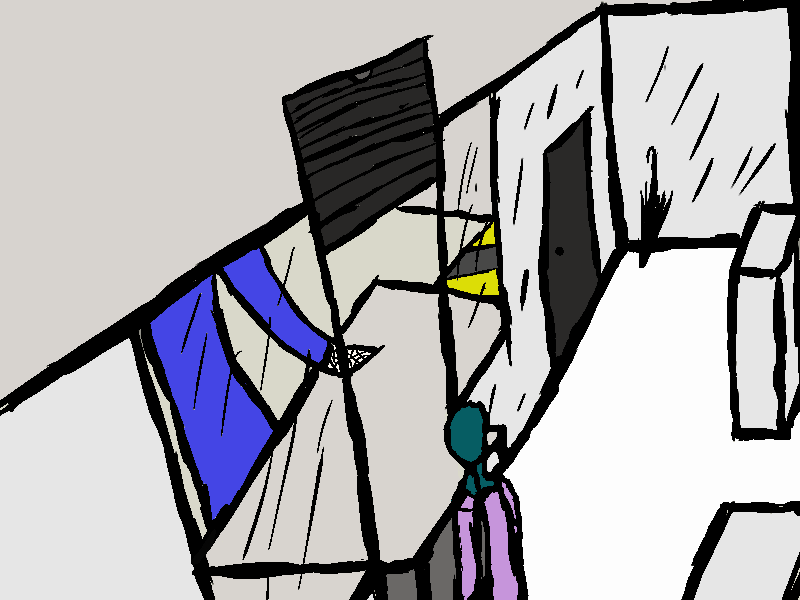 Daisy glances down at Davis, she didn't usually mind him, but right now she was tired and rather hungry -- and honestly he was getting on her nerves a bit. She feels her stomach growl, missing breakfast was definitely a mistake. She would have to get something around here. What a pain. She took a moment to figure out how to end the conversation without sounding like an ass. Eventually, Daisy settles on the upfront approach.
DAISY: Hey, I'm gonna go get something to eat, don't run out of energy talking to me before the mid-day rush.
DAVIS: Cmon Daisy, it's the weekend, nobody likes to do shopping then
DAISY: Don't say I didn't warn you.
Daisy turns quickly and heads off, before the conversation can go any further. She hopes that that wasn't too rude, but really she's too hungry to focus on that thought for long... and things just feel, tired and weird today -- she blames the nightmares for that.
DAISY:
alright, I really need to get some food...
DAISY:
and call Verity... and Arash
DAISY:
augh, I hate choices, any ideas?
DAISY:
demon tacos, what?
DAISY:
tacos for demons? no... I dont usually get special stuff other than uh... fear? some people respect me more I guess.
Daisy shrugs off the weird thoughts, heading into the taco establishment. She orders a large plate of tacos, and grabs a soda-can from the refrigerator. She really is feeling hungry.
DAISY:
Verity... right, I can do this, I can call her
DAISY:
She's not going to say anything rude or, judge you, she asked you to call her
DAISY:
You can do this Daisy...
Her stomach growls
DAISY:
maybe after I eat.
By the time Daisy's food is ready, a growling stomach is the least of her worries. She knows that only a few minutes at most have passed since she placed her order. In spite of this she just keeps getting more hungry by the minute. She could even feel a bit of drool dripping down her cheeks slowly; dampening her paper-skin.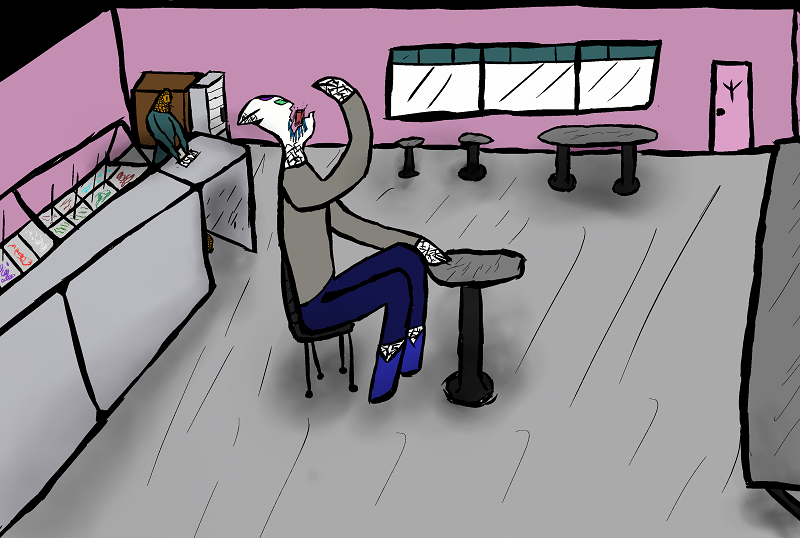 Once the food was in-front of her, eating was easy. She swooped of the platter of tacos, wrapping and all, dropping them into her open maw, soon followed by the can of soda. For a moment she chewed, a loud hissing escaping her mouth as the aluminium container depressurized.
Daisy swallowed, it occurred to her some people were staring. She wasn't exactly acting normally she supposed, nor was she what most people looked like. She let out a low grumbling noise, so many things were troublesome like this. People didn't know what to do with her, and she quite literally didn't fit with a lot of things in Aspersion.
She lets out a long sigh, it wasn't that there weren't accommodations, there were enough different types of people around the capital that services were accessible to just about everyone. But she was unusual in ways that were more than just size; it made things difficult.
That didn't matter right now though, now she had to make a call.
She pulls the radio and keypad combination from her pants pocket. She focuses on Verity, and punches in the number. She presses the radio to her ear, and waits. For a moment nothing, and then a faint static buzz of an active line
DAISY:
 crap, what do I say, ah I didn't think this part through, I-
VERITY: Hello?
There she is.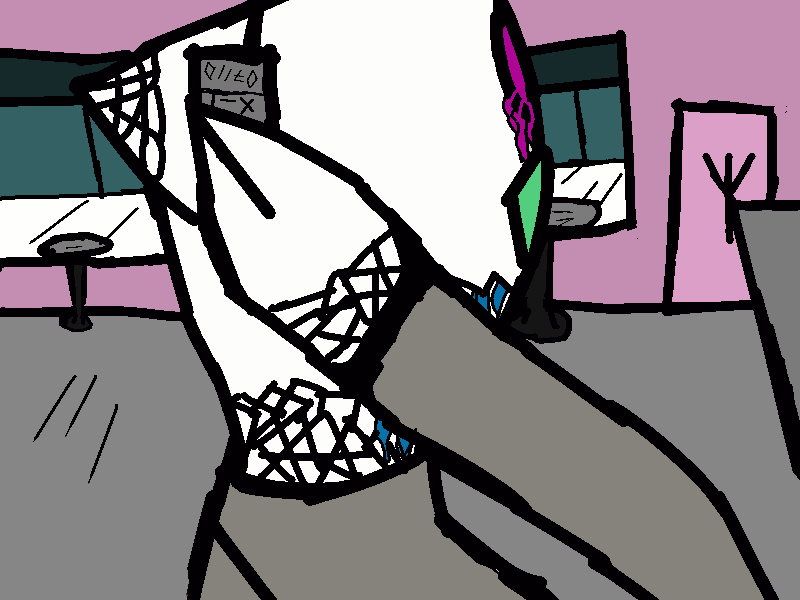 DAISY: Yes!, Verity, hi!
VERITY: With whom am I speaking?
DAISY: It's Daisy, I just got your letter this morning
VERITY: Daisy!, I'm so glad you decided to call me
Daisy can hear Verity's voice change, going from a more formal and dry cadence to something much more personal and emotive; it seemed that Verity still did regard her as a friend. She wasn't quite sure how she felt about that... it was what she wanted, but.
DAISY: Yeah it, it took a bit of effort, I'm actually out at the shopping center right now.
VERITY: Thankfully you were still living in Obloquy, otherwise getting that letter to you would have been much more difficult. Which center, by the way?
DAISY: Yeah, I wouldn't just leave here... and western downtown, the inland one, anyway... so...
VERITY: So?
DAISY: I was wondering if you had any time some-time soon where we could talk in person... I miss working alongside you. Of course if you're busy I'd understand, you have a lot of management things to do, and.
VERITY: We can meet tomorrow
DAISY: Oh okay... wait, tomorrow?
VERITY: Is there a problem with your schedule?, I figured the weekend would be easier for you, work wise.
DAISY: No, I just thought you'd be busy.
VERITY: Not for you.
DAISY: I ah... oh.
VERITY: You're still my demon, that hasn't changed. I haven't revoked that gift for a reason, you're still someone I trust, Daisy.
DAISY: ...
VERITY: You were the best aid I could have asked for.
DAISY: Verity...
VERITY: Sorry, I don't mean to be overbearing.
DAISY: It's not that, I just figured you didn't want to see me... since, the stuff with Loom.
VERITY: That was it's fault, not ours.
Verity's voice goes slightly icy at the mention of Loom, it sounds like she isn't too happy about it's actions either. Daisy swallows nervously, unsure what to say at this point.
VERITY: Look, I have to go to a meeting soon, but I am going arrange for someone to pick you up and bring you to my house tonight. You can have a nice weekend, we can get familiar with each other, go from there. Does that sound good for you?
DAISY: Alright!.
And then the line was dead.
She had done it, she made a phone-call to Verity and now she was going to meet her tomorrow. Daisy could feel her heart thumping in her chest. A sense of self-pride and confidence filling her. She knew it wasn't much, and that most people made phone-calls on a daily basis. But for this small success, she was proud of herself.
Her attention was yanked away from celebration when her stomach rumbled. Maybe it was time for more food, something about that bothered her. She had ate a lot of food, but now she was just as hungry, if not more so than before she ate in the first place.
She ordered another round, and called Arash while waiting for them to be made.
The line clicks open.
ARASH: Yes, Hello, Daisy!
ARASH: It has been quite a while since we talked, no?
DAISY: Heh... yeah, It has been.
DAISY: I wanted to know how things have been around your shop.
DAISY: Still getting customers?
ARASH: Daisy! Friend, you know how it is.
ARASH: Not one day without customers.
ARASH: Best Body-Mod-Shop in Aspersion, Is why so many patrons.
DAISY: Of course, the best shop in Aspersion.
ARASH: Number one, every year!
DAISY: Hey, I'm sorry, something came up and I have to go for a bit... I'll talk to you later, maybe we can do lunch some time, if you're not covered in grease.
Daisy wasn't so sure about the phone call anymore, she normally liked talking to him but. Other people in general just seemed to be bothering her right now, getting on her nerves. Usually she'd find his bombastic attitude cute. Currently it was just making her a bit angry.
Daisy hung up the line quickly, eyes turning to the food in front of her. She really was so much more hungry than usual. With no hesitation, she tilted her head back and devoured it all in one swift gulp.  
She felt the chips, the vegetables and the meat, especially the meat, glide over her tongue -- and chewed for just a second swallowing. Daisy knew it wasn't real but she could almost feel the food gripping her throat. The food felt so wrong right now, like it just wasn't supposed to be there.
Daisy gets up, and heads back to the train station. She needs to get to work, even though she's still so hungry. Maybe work will distract from this. You aren't quite sure if, she isn't quite sure if she should be worried. She tries to shake the unease from her head. But something about it sticks and hangs onto her like sap.
You find the once-familiar station platform, Daisy knows it well. She looks around, and swallows, a small knot welling in her throat. Everything felt so out of focus and broken. This wasn't correct, the world around her was, quite simply, broken.
DAISY:
hey im... not doing so great.
DAISY:
i might need...
You stumble a bit, and catch yourself on a pole. When you look up, you see the issue with the world.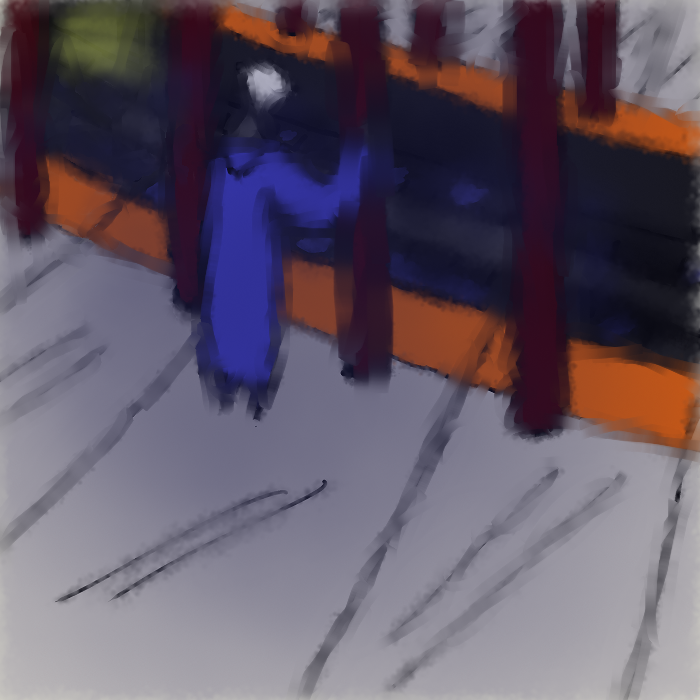 DAISY:
I don't think I can do this right now
DAISY:
you weren't supposed to deal with this but
DAISY:
please get us home
You look up, through her eyes, for the first time since that dream. And something small, something easily forgotten when faced with lots of new information tickles at the back of your head.
Did Daisy take her medication this morning?
Before you can even do something, you have to catch yourself from falling over, everything is so foreign. You could vaguely see it through Daisy's eyes before, but now, now you're experiencing it. You're experiencing what it's like to be in her body, and frankly it's not very fun right now.
You reach into your jacket pocket -- nothing, it takes you two more tries before you find the pocket with the medication in it. You're not really used to actually controlling this body in the first place, so everything is a bit clumsy. You almost drop the bottle, but manage to get one pill of the Trexial into your mouth, you hope that that's the right dose.
You take a moment to look over yourself, you can tell that you're drooling a bit. Which is probably an issue. You also note that you feel something strapped against your leg in your right boot. Something cylindrical, you're not really sure what it is.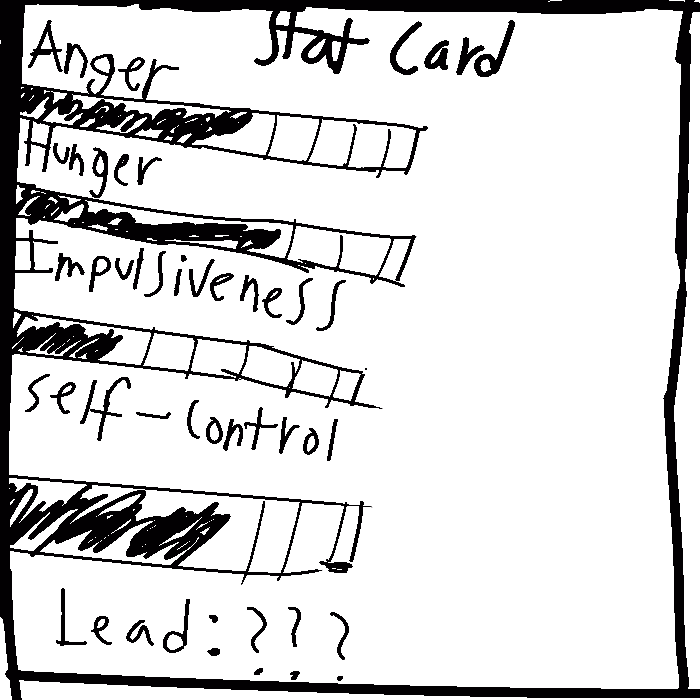 You're not doing too great.
YOU:
Daisy, what's going on?!
YOU:
Daisy???
It seems she's not responding yet.
When you snap back to reality a train has arrived, people are rushing out, but they don't look like people, not exactly, they just seem so fake, so unreal. You don't like how this is making you feel at all.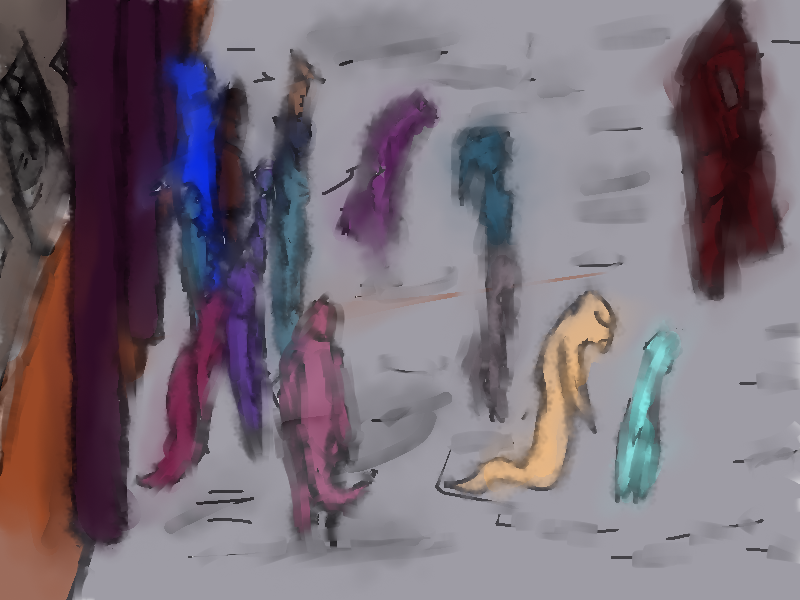 And it just gets worse.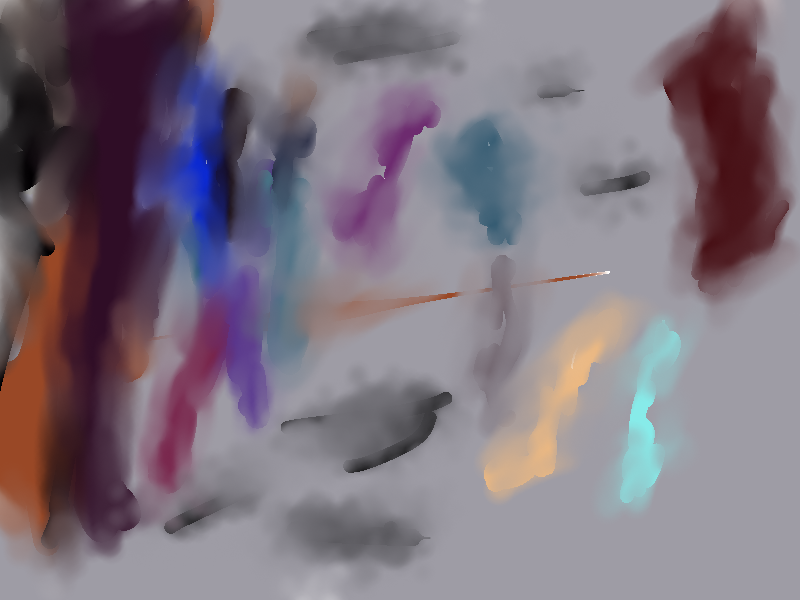 You take a deep breath, and close your eyes, you can't stand to see anything else right now. Carefully retrieving the Enaxic, swallowing one pill of it as well, the whole process takes much longer than you'd like. The only thing you're really sure of right now is the stone that you feel under your paper-skin. You try again.
YOU:
Daisy?
After what feels like an eternity, she responds
DAISY:
I'm sorry
She sounds scared and on edge, her voice wavering even though you were only hearing it in your head.
DAISY:
I should have explained more to you all I'm...
YOU:
Daisy, what does it mean to be a Monster?
DAISY:
right... I'm a monster, and a demon. A demon is a servant to a god, and a monster is someone who's been exposed to and changed by horror radiation
You can hear her take a heavy, trembling breath -- all in your head of course
DAISY:
monsters typically grow in size quite a lot compared to their regular counterparts, we also tend to grow extra... things, like eyes, or teeth, or other parts... and we, well... it's...
She has to stop for a moment, and catch her breath, you swear you could hear crying.
DAISY:
worse than that, monsters tend to get very hungry, I hate it when it happens, I could eat anything, anyone... and I know it wouldn't be enough.
DAISY:
I... I mean, we, monsters also have issues regulating their emotions, I get very angry... and... other things, I don't know if it'd be the same for you... or different. I'm sorry if you're feeling any anger because of me...
For a long while there is nothing, then, just slightly audible, a small, and scared voice.
DAISY:
Are we safe?
You stumble forward onto the train, you aren't entirely sure if this is the right thing to do -- but this was where Daisy was going in the first place so it must be close to correct.
You:
We took one of each of your pills, was that right?
DAISY:
the ones I just got?
DAISY:
... you should be fine just... do you remember where I live? Can you get us there?
DAISY:
I don't think I can do that myself.
You manage to get yourself to hold onto one of the support-poles of the subway car. The people around you still look so blurred and fake, though it's getting a bit better. You take a deep breath, feeling the drool still clinging to your chin. Your paper skin slightly dampened from it.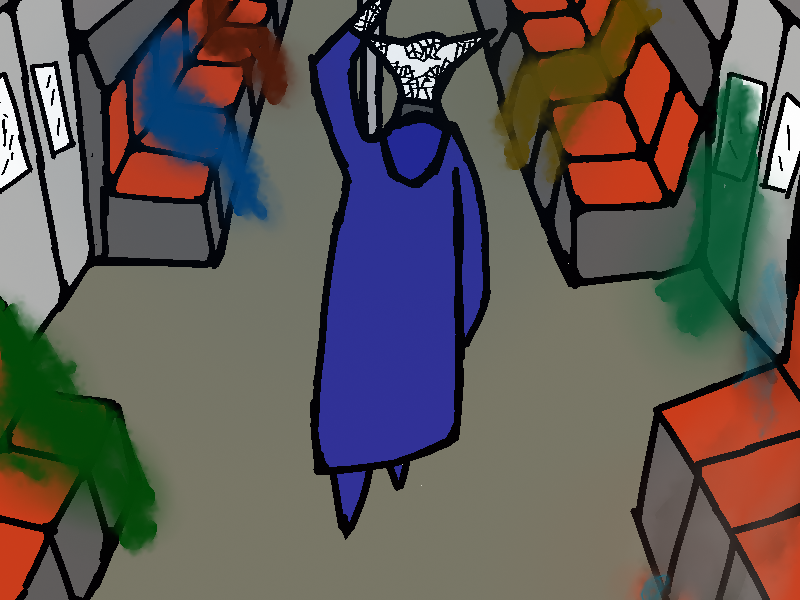 DAISY:
three stops... just so you know
YOU:
maybe we can talk to distract us?
DAISY:
that would be good... you sure you're okay?
YOU:
well, the mood and the hunger thing doesn't seem -
Just as you're about to finish that sentence your stomach growls loudly, maybe it was a bit worse than you first noticed.
YOU:
we've got it under control
NOTE:
SpoilerShow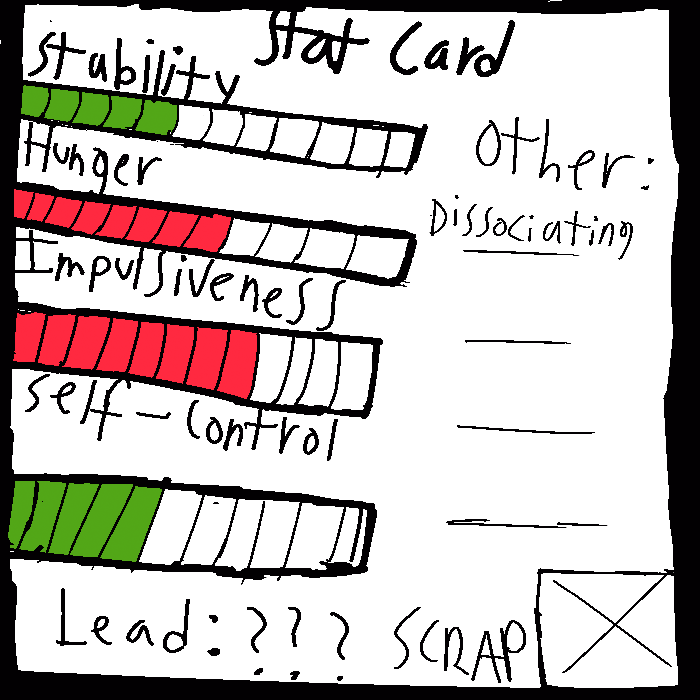 YOU:
we're... hungry, but we can do this, lets talk, okay?
DAISY:
okay... please be careful
YOU:
we will
You feel a strange tingling sensation throughout your body, your hair would be standing on end if you had any. You can feel parts of your body crinkling just so slightly in sympathy. Something was happening here but you couldn't quite tell what.
DAISY:
so
DAISY:
is there anything you wanted to talk about?
You immediately have a bunch of questions come to mind, and you have to hold yourself back from asking them all to Daisy at once. Your grip tightens on the subway-pole. You take a moment and decide to start off on your list.
YOU:
Firstly, who is Arash?
DAISY:
Oh! he owns a local body modification and augmentation shop...
DAISY:
He talks all the time about his work, he's really good at it, but super busy all the time
DAISY:
... he's kinda cute, too.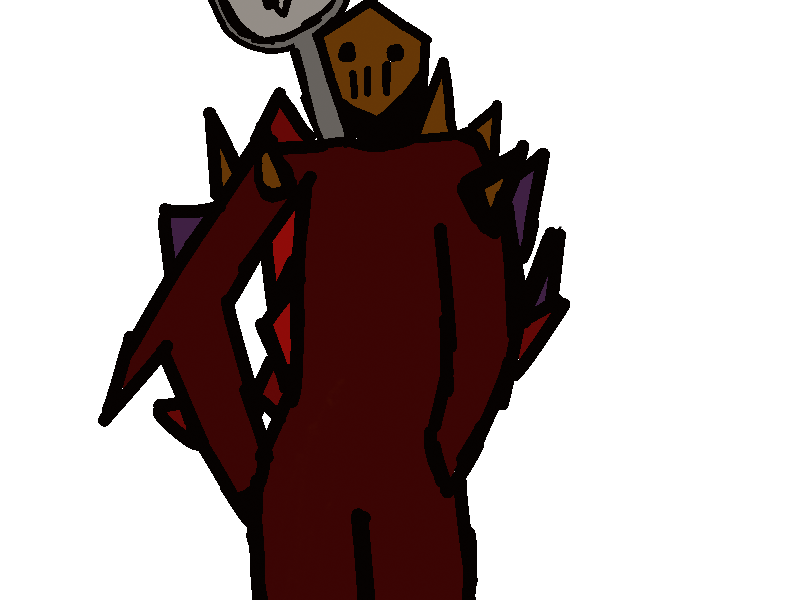 The train rattles, and you start to feel a bit uneasy, the world just starting to come back into clarity, and for the first time it truly strikes you how strange and varied everyone is.
YOU:
... also, like, what's time like here... we don't use this sorta... number system
DAISY:
yeah, you mentioned, it's "Zero to Twelve" as you would say, twice, for each half of the day
You can practically hear the annoyance in her head-voice as she talks about the decimal system, she must really not like it.
YOU:
Right, What did you do for Verity, what are you doing now?
YOU:
Oh yeah and what's that weird thing on your leg???
You realize you might have gotten a bit ahead of yourself, but it was hard not to, the drugs must be doing something to the body. Or maybe you're just making it up.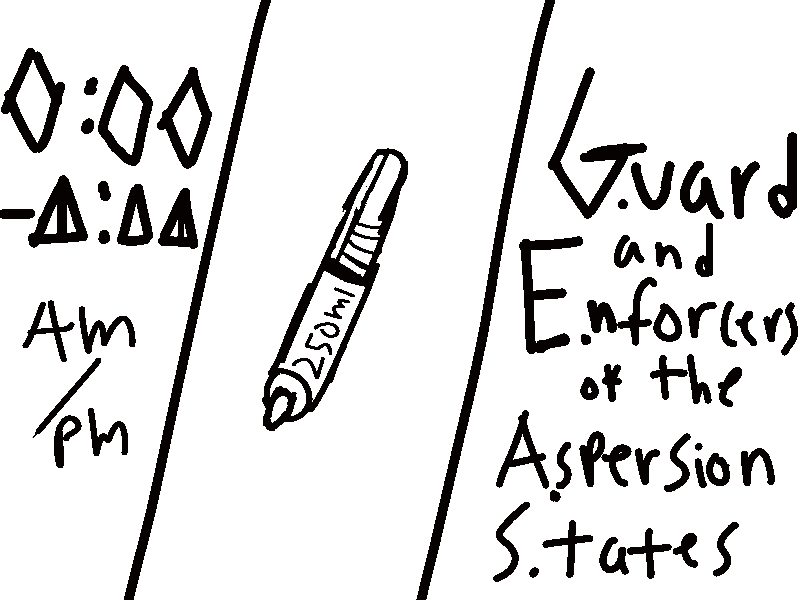 You hear daisy laugh, hopefully it's not at you.
DAISY:
you really like talking, don't you?
DAISY:
The 'thing on my leg' is a tranquilizer dose, in case I start getting really bad I just jab myself with that... and probably promptly pass out; it's better than killing people
DAISY:
Anyway, I don't have a specific job anymore, I can't really hold one as is, so I've just been doing jobs here and there that people want.
DAISY:
Today I was going to help someone move construction materials... Ihope they don't miss me
DAISY:
Being a Demon has its benefits... free housing and all
.
DAISY:
And before... well, I was a commanding officer for the Obloquy division ofthe zone wide Militia. We had a fancy name and everything, still do I think. G.E.A.S
DAISY:
I had a pretty nice uniform back then
DAISY:
... It's at the bottom of the ocean now
Ouch, you're not really sure what to say to that, maybe you should go for a sympathetic route. You hope that Daisy doesn't , brain shock you or something, if she even could.
YOU:
Was it... bad down there?
DAISY:
Yeah, I don't like to think about it.
You wince to yourself a bit, the feeling of the body's paper skin crinkling makes you wince more, this was going to take a lot of getting used to.
YOU:
Have you tried... like, practicing fasting, so it's easier to deal with the monster stuff?
DAISY:
That's... not how it works
YOU:
Or like... self control exercises?
DAISY:
I'm never not hungry
DAISY:
it's always there
DAISY:
All the time, it's waiting, I have to eat a lot, I only stopped cause well... I don't know actually
YOU:
Meditati -
DAISY:
Don't finish that word
YOU:
... sorry, we're not exactly, familiar with this
DAISY:
There is nothing I can do if I miss my medication
DAISY:
Other than hope I remember to take it in time, or hope I can manage to get my tranquilizer dose into myself before I kill someone
Dang, she sounds mad
The rest of the train ride is spent in silence, until she speaks up at one stop.
DAISY:
This is our stop, get off here
You wince, she really is upset about the whole "meditation" thing.
YOU:
Hey I'm sorry... look... is there anything you like to talk about?
DAISY:
Right now? No, later, maybe.
You make it out of the subway system, looking across the street.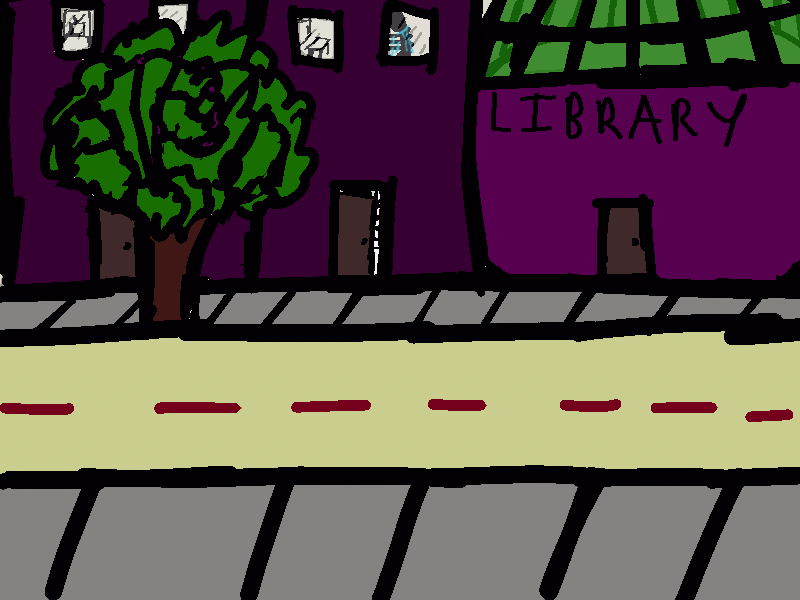 YOU:
Can you... tell me which apartment yours is?
DAISY:
Second floor, right across the street, east wing, number 3, has a nice lookout right onto the street. That description good enough?
YOU:
Yeah.
YOU:
... uh, Daisy...?
DAISY:
Yes?
YOU:
Not to alarm you... there's someone in your apartment
DAISY:
What?
YOU:
That window right there? there's someone inside.
For a little while, there isn't any reply, Daisy stays silent. You can feel a sort of tension in your head.
DAISY:
We should do something about this.
You head across the street, entering the building, the stairs leading up to the second floor sit infront of you, looming over you. You take a breath for a moment, should you really be confronting this?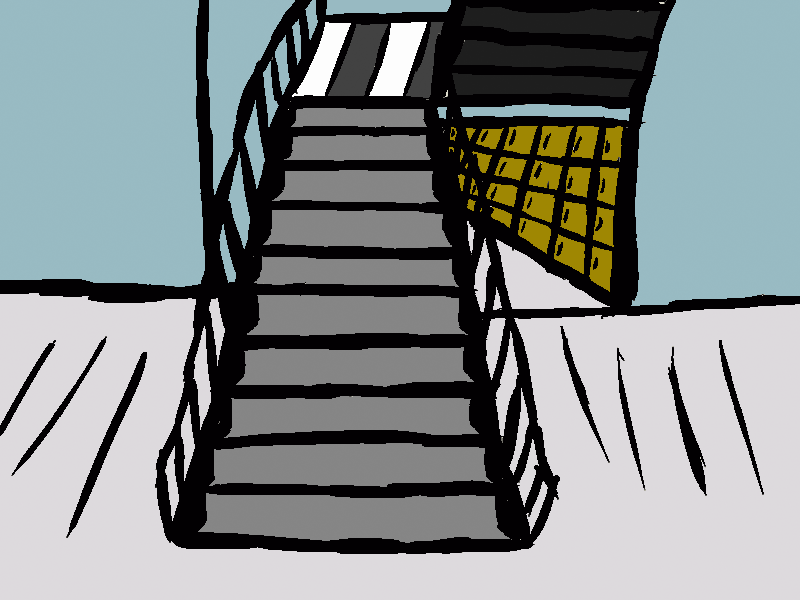 YOU:
is this a good idea? Should we like... call the police?
DAISY:
please, I'm a demon, and you can still do Motif Manipulation... even if you don't know how. Worst comes to worst I'll just do it.
Daisy still seems a bit frustrated, with you, her words are short and snippy.
The second floor hallway is unnervingly empty, making sure to be as quiet as possible, you approach the to Daisy's apartment. Small, colored particles hang in the air outside it, they bump into each other, coalescing into a rainbow of dancing lights.
Blue glowing thread hangs from your door handle.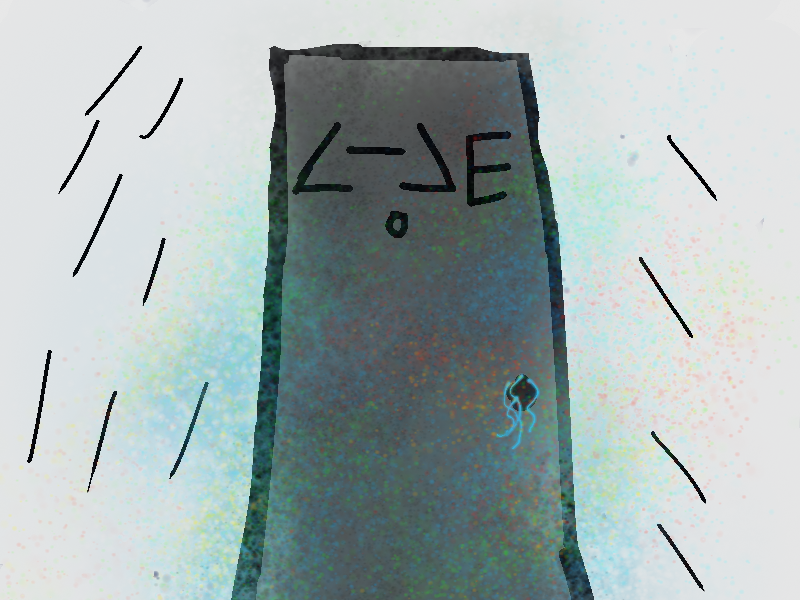 YOU:
what are those?
DAISY:
Shreds... whoever it is must've been using a Scrap...
YOU:
... okay...
You aren't quite sure what a
Scrap
 is, or even really what
Shreds
 are; but this isn't the best time to ask. You could of course, but that would mean giving whoever is in Daisy's apartment time to do what they're doing.
YOU:
Hey, are there any exits other than this door?
DAISY:
Nope, and the stairs are the only way out of here, other than the emergency exit... which would trigger an alarm
You stand there for a moment, considering your options, you could wait for them to come outside -- giving them time to carry out their business. Or you could go and confront them -- but they'd likely know you were coming.
DAISY:
Well, are we going to go inside?
YOU:
what's motif manipulation?
DAISY:
Motif manipulation means you can influence things that aligns with my God's motifs. In this case, Paper and Imitation
DAISY:
If it comes down to it, I'll take control, I'm probably a better fighter anyway.
YOU:
Are... could we just be seeing things?
DAISY:
Possibly, but, you saw shreds... you wouldn't just hallucinate those
You enter the apartment and lock the door behind you, it's painfully quiet, and only the occasional noise of shifting floorboards as you walk can be heard.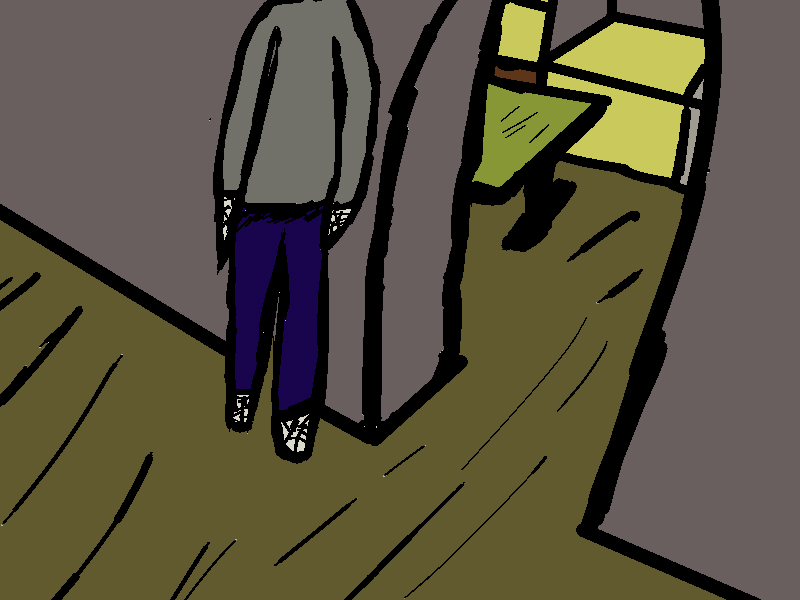 YOU:
whoever it is probably knows we're coming
You press your back to the wall, inching closer towards the kitchen, this is where you saw them. You take slow, and careful breaths, trying to be as quiet as possible. A strange tingling feeling growing in your body, something was happening.
DAISY:
So they've got a scrap...
Something about this felt wrong, like you were getting yourself in over your head.
YOU:
Daisy... what do we do?
DAISY:
that's on you.
YOU:
Daisy... this feels like a bad idea, we don't even know what a scrap is, we dont know who we'll be up against, shouldn't we get the guard or something?
DAISY:
Oh, this is absolutely a bad idea, but if they have a scrap there's not anything you or the police could really do.
DAISY:
If they DO have a scrap, we'd need help from Verity probably, and she'snot here right now. Or get a scrap of our own, but that's unlikely.
DAISY:
But I'm not about to let someone root through my home and mess with my things
DAISY:
My belongings are mine, and I do not want anyone that has anything to do with that spider getting their dirty hands on them
You can feel the malevolence slipping into Daisy's voice as she starts to talk about Loom, it's almost overwhelming in how strong it is.
YOU:
This feels like a REALLY bad idea.
YOU:
Anyway... we have. The paper from the bookshelf, the paper in the trashcan, your poster on the kitchen wall, receipts from the pharmacy and those bags.
YOU:
We also have those tranquilizer drugs that you mentioned!
DAISY:
Good, can you look into the kitchen?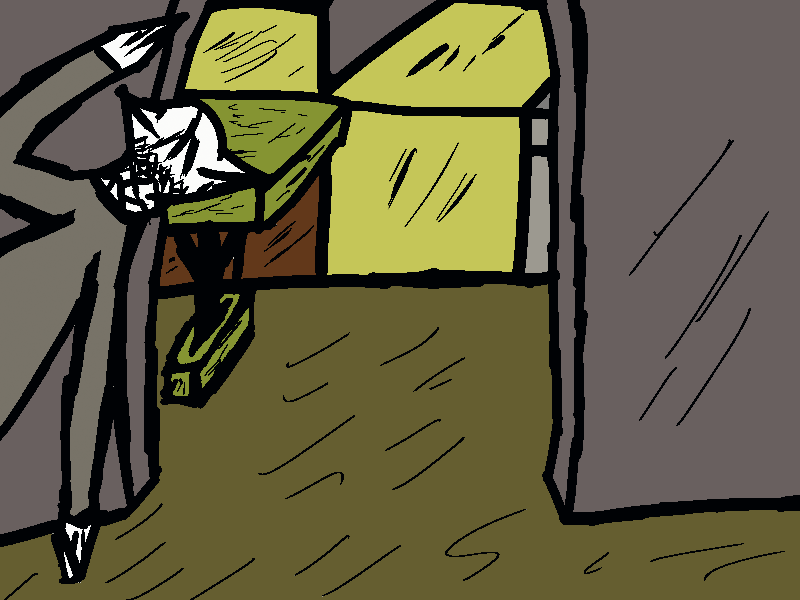 You:
It's empty
You edge towards the kitchen entrance and peek around the corner... only to find the room entirely empty.
DAISY:
Pardon?
You duck back around the corner, thinking for a moment.
YOU:
The room is entirely empty, nobody was in there, we're sure of it.
YOU:
We still feel that.... tingling thing you said was a "scrap" but.... there's nothing there, Daisy.
What do you do?
YOU:
Okay... we've got an idea
YOU:
Just one thing, what are Loom's motifs? sorry to bother you with it but, it's important
DAISY:
Its motifs are Clothing and Puppetry.
DAISY:
You're fine.
DAISY:
Just don't get us hurt.
You reach into the pockets of your sweatpants, grabbing the bag that previously held your medication. Between it and the several pages that warn about side effects and drug interactions you have quite the amount of paper at your disposal.
The motif manipulation comes easy to you, the paper shredding itself into a haze of fine particles as you will it. From there, it's only a matter of dispersing the particles throughout the apartment. First scanning the kitchen, then the bedroom.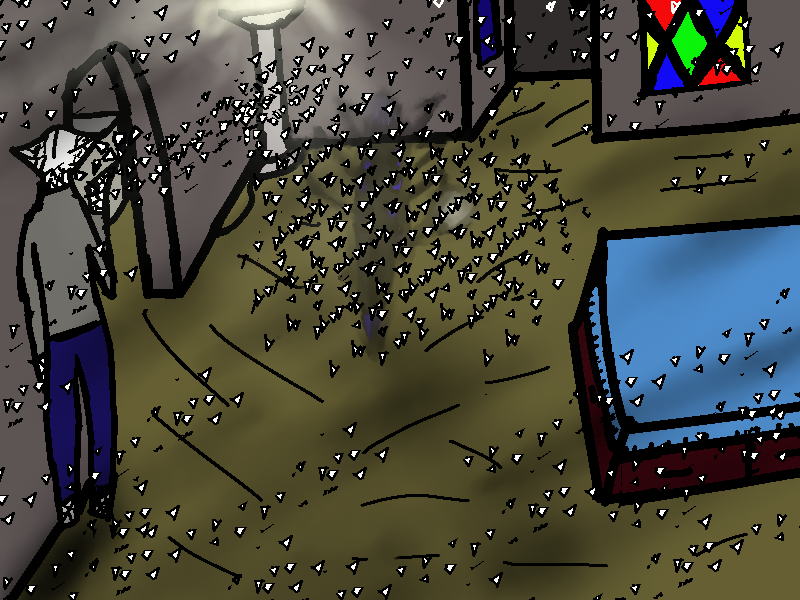 The illusion falters as the myriad of tiny papers get brush against the body that is very much trying to sneak out of your apartment.
DAISY:
Oh
YOU:
Shit
The intruder has eight arms, three pairs sticking out from his back, joints bent at an assortment of angles, twitching occasionally as if they were pulling on string. His outfit is sleek and form-fitting, looking almost like some sort of uniform. You can see that in his right hand he has some sort of staff with a... thing attached to it. The details are hard to make out through the haze.
DAISY:
That's a scrap...
???: Heeeyyyyy Daisy uh... Look I know this looks bad.
His voice is nervous, but slightly singsong; his back remains turned to you as he continues to creep towards the door.
DAISY:
Get him
What do you do?
You don't give the intruder any time to respond, sending a storm of fine papers at his body. Keeping them rigid, like a storm of tiny blades flying through the air. You catch him in the side as he turns around, slightly distinct hissing noise escaping him.
The next few things happen very quickly, as soon as his face comes into viewyou feel pure panic coming from Daisy.
DAISY:
SHIT, DON'T TOUCH HIM!
Half way through your first step you see a cloud of glowing blue thread lashing out from his body - which, you note, looks very cloth-like. You also register a pained noise coming from him. As if whatever he is doing is causing physical strain. As you finish your first step, the strings connect, rooting into your clothing, which becomes rigid like metal. You're taken down to your knees as the clothing restricts your movements.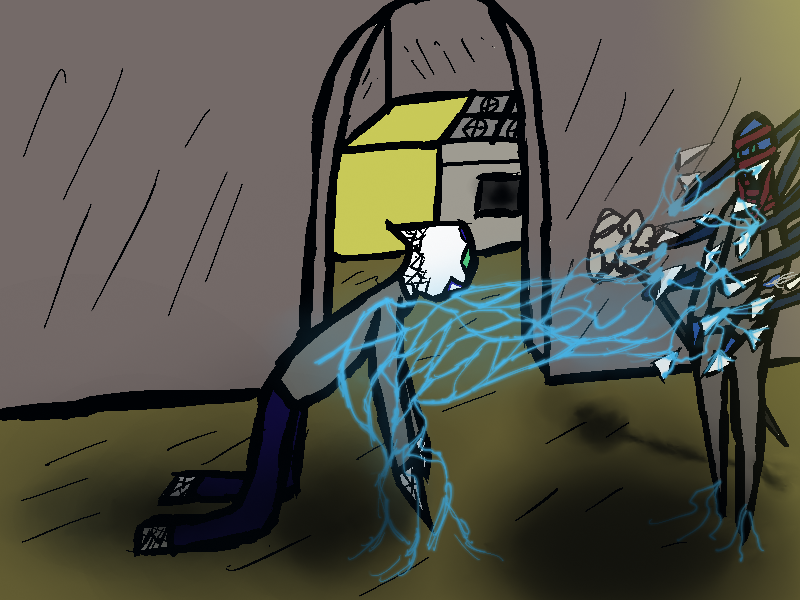 ???: Daisy... What happened to you...?
He sounds concerned, and somewhat in pain.
DAISY:
...
Daisy doesn't seem to be saying anything, she's definitely there, but she feels far away, like you can't contact her. Almost like there's something in-between you and her.
YOU: What are you doing in my home?
???: It's... sort of hard to explain.
YOU: We've got a while.
You can't really move much, but you've still got control over the storm cloud of papers surrounding him. You could easily drive them all inwards and do some good harm. His strings are connected to those papers as well, but you get the feeling he can either stop you or the papers, not both.
YOU: I wanna know.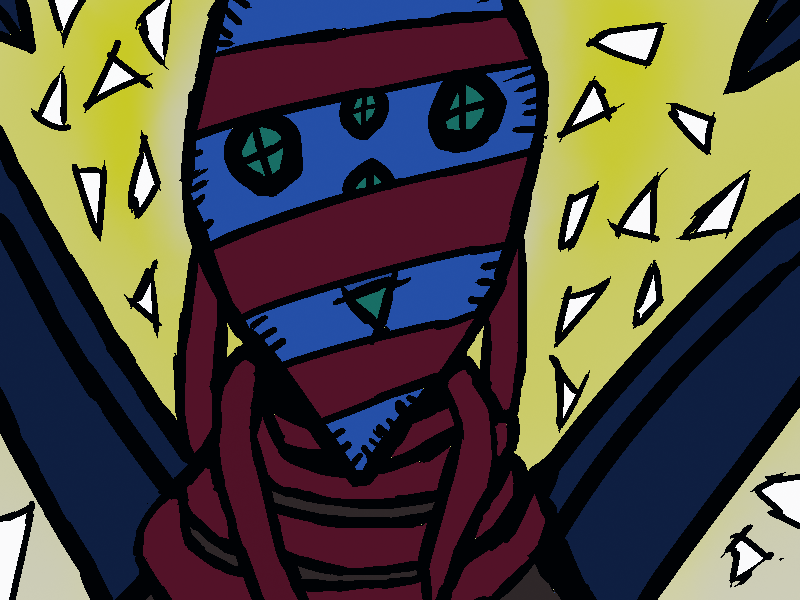 His head is wrapped in a scarf, and you can make out at least two distinct pairs of eyes. They look like buttons, sewn to his cloth-like head.
???: Well... You received my package I'm assuming, only, when I left it there was a letter from... you-know-who already there.
???: I couldn't just stand by knowing that
she
 was involved, but it was late and it was risky to stay knowing that any of her people could have been around.
???: So I decided to scope out your apartment for a few hours, make sure there wasn't anything around here that shouldn't be.
???: You threw away my package...
???: What's going on with you, Daisy? I know that... I know what happened then was bad but...
???: I knew that she tried to kill you.
???: I just never realized it was like
this
How should you respond?